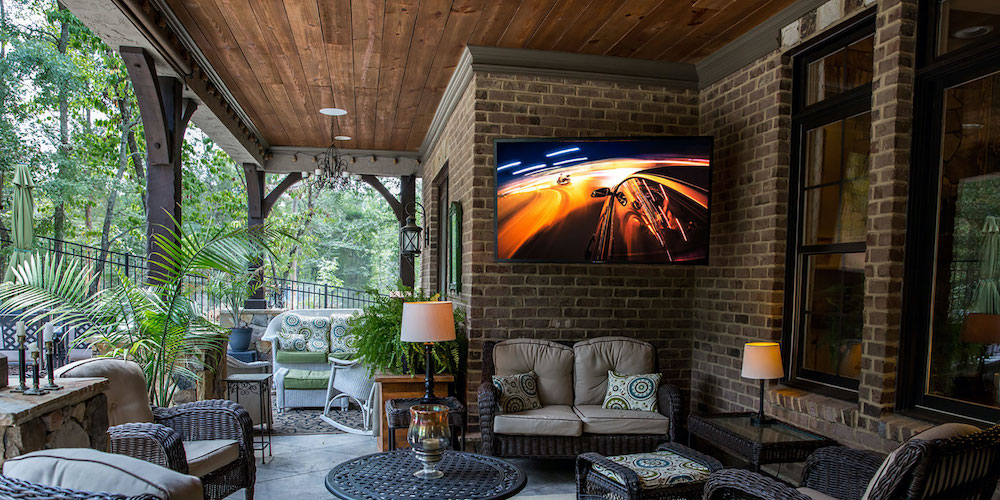 Outdoor TVs are increasingly popular. Its started out as people using regular TVs temporarily outside to watch shows and sporting events while still enjoying nice weather. Now people want something permanent. To help this trend, manufactures like Sunbrite and now even Samsung sell outdoor TVs. In the lower mainland, we often want to maximize our enjoyment of the outdoors – maybe it would be nice to be outside and keep binge watching The Great on Prime. In that case, what should you look for in an outdoor TV?
Outdoor TVs can handing even the lower mainland's weather
Some people are tempted to install a regular indoor TV outside. It could be dangerous due to the electronics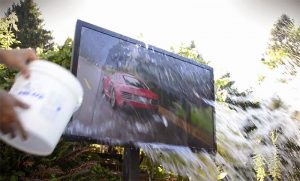 not designed to be outside, and it will definitely not last as long as it should. Although the weather in Vancouver and area isn't as rainy as the rest of the of country thinks, lets face it, its quite damp here. Even in covered areas, that dampness will creep into everything outside. Outdoor TVs are made to handle that dampness and the heat in the summer. They can be left out in the rain or get splashed with no issues. If you put one pool side, you wouldn't even have to worry about even the best (or worst?) cannonball splash. 
Outdoor TVs are brighter
Since outdoor TVs are made to be, well, be outdoors, they are also brighter than regular TVs. Even in full shade, the outdoors is much brighter than in a home. Consider how hard it is to look at your phone outside in full sun versus in your home.
How bright of a TV you need depends on where you're installing it. For covered, shady areas, you can use a less bright one like a Sunbrite Veranda. If you're putting it out in full sun, by a pool for example, then you'll want a much brighter one, such as a Sunbrite Pro.  
How to connect an outdoor TV
You'll need a power outlet near the TV location at the very least. If you want to stream video from Netflix or Prime, you might be able to just use you home's WiFi if its strong enough. Most outdoor TVs are now full 4K, so you'll likely want a better signal. For a better connection, you should use network wiring. You can use network wiring to also route the video from a cable box somewhere safe and dry in your home. Then you can decide if you want to use an outdoor fixed mount or a moving one that allows for better viewing. You can also add an outdoor rated sound bar for improved TV sound. Some people build a whole outdoor surround system for a full theatre experience under the stars too!
If you're considering an outdoor TV, it might be a nice way to make it through these COVID-19 times. Once you balance out your goals and location, a nice outdoor TV system can be set up to match your outdoor lifestyle.