The Nest Learning Thermostat is cool, so when Nest announced their new Smoke + CO Alarm it was a bit underwhelming for some. Perhaps the perception was that the Nest folks were going to introduce something spectacular. Let's face it – a thermostat isn't usually really exciting, but Nest managed to make it interesting. Maybe they can repeat with a smoke alarm.
The Nest thermostat is a very nice looking design with an Apple pedigree.

Its also really easy to learn how to program. Actually, it just learns from you as you use it over several days – they call it a 'learning thermostat'. If you've ever fought with a programable thermostat, you'll appreciate that. The other reason its cool is its an easy and reliable way to get into home automation. They have mobile and tablet apps that allow you to easily setup more complex schedules and even control it when you're not at home. Didn't know you could master the 'Internet of things' so easy, did you?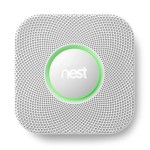 Perhaps they can take home safety to the next level as well. Their Smoke + CO alarm (carbon monoxide is toxic) will tell you with a voice what the alarm is, plus a green, amber or red lighting to show the threat level. They claim it will also take care of the mundane and test it every night and let you know well in advance if the battery is low (goodbye annoying chirp!). If you set it off with something like burnt toast, you can forget frantically swatting it with a towel.  Instead, just wave at it to settle it down before it gets really loud. For a real issue, it will also tell your Nest Thermostat to turn off the furnace in case the furnace is part of the problem.
The Nest Smoke + CO Alarm is only available for pre-oder at this time, so it will be a bit before we will know if its worth the hype. With features like self testing and manageable false alarms, they may be on their way to making safety interesting too.