HDMI is the current go-to cable to connect TVs to devices like PVRs, Apple TVs and DVD players. With home tech there is always something better on the horizon, and HDBaseT is one of those standards that you may start hearing more about as its an improvement on HDMI with more capabilities. The HDBaseT, sometimes shortened to HDBT, standard allows video, audio, data, control and even power over an Ethernet cable. The HDBaseT Alliance markets this as 5Play, as it merges five home tech device needs into one cable.
HDBaseT will have us covered for the foreseeable future for video and sound. On the video front, HDBaseT allows enough video data for High Definition TVs up to 4K Ultra HDTV. There is no rush for you to upgrade to Ultra HD, but 4K Ultra HD will keep us happy with excellent video quality for years to come. HDBaseT also provides enough audio data to keep home theatre surround sound enthusiasts and picky audiophiles very happy.
Beyond video and sound, HDBaseT has a few more tricks up its sleeve. First, it allows
100Mbps for Ethernet data, which is plenty enough to watch streaming services like Netflix. Second, the standard allows for remote control over the cable. Manufacturers aren't doing a great job right now being compatible with each other, but it can allow your TV remote to control your Blu-ray player even if the player is hidden in a cabinet. Finally it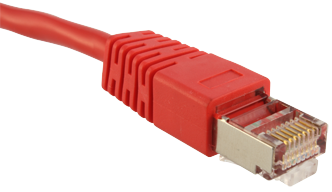 provides 100W of power through the same Ethernet cable. This would be enough power for a streaming device but not enough to power today's TV (likely tomorrow's TVs though). That would save you having to run a power to where you want to put your TV.
While there aren't many products available with HDBaseT built in yet, if it gains popularity, you should start seeing it pop up more and more. There are also HDBaseT dongles currently for sale to convert Ethernet cables to HDMI when you only have Cat 5e or Cat 6 cabling available to the TV. Its always a good idea to plan out your home's Ethernet wiring carefully or get some advice to do so, as Ethernet cables are invaluable for connecting home tech devices and computers. In the future Ethernet cables will likely be our go-to cable to connect our TVs and media players too, so its even more important to have a solid home tech plan.