This fun and hip urban couple wanted seamless home tech in their new townhome.  As often is the case, although the home was recently built, it wasn't well thought out for home tech. The plan was to smarten up the home while maintaining a modest budget. For this project, we worked with Tamara of Philosophy Design to realize the couple's vision.
The tech updates had three focus areas; the living room, master bedroom and office/spare room. The overarching principles for this update were simplicity, clean lines and minimized tech footprint. As with any update, it was also important to provide a home network to connect all the gear.
The home's living room is an ideal entertaining hub as it flows from the dining room and

kitchen. Here we mounted an awesome and affordable Panasonic 58" TV and Harman Kardon sound bar over the fireplace. The other gear was discretely tucked away in the funky console and the wireless subwoofer hidden. This was nicely tied together with a Harmony remote. Now the homeowners can watch TV, stream from their Apple TV or listen to music from their smartphones throughout the 'great room'.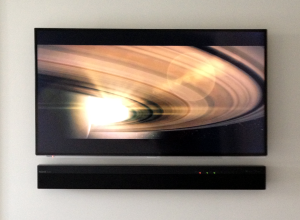 The master bedroom has similar functionality. A Panasonic 42" TV is tidy on the wall with a matching sound bar. Again the TV set top box and Apple TV were hidden away, but this time on a tiny shelf in the walk-in closet behind the TV.
The office space, which also doubles as a spare room, has similar touches with another Panasonic TV and sound bar. A PS3 was desired instead of an Apple TV, so the PS3 and TV set top box were again tucked away in the closet.
We used the office as the hub for wired and wireless networking. The building developer had put the TV, phone and networking panel in the ground floor entry room. This would have been fine, but unfortunately only one networking wire was installed when originally built! Luckily it went to the office/spare room, so we used this to branch out the Internet connection.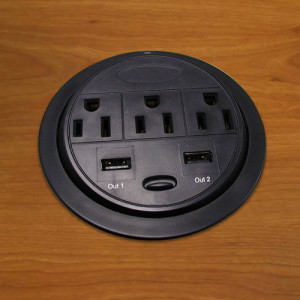 Physical network wiring in the office maximized performance there, and we put an excellent Wi-Fi access point to ensure solid Internet access for all the homeowners' wireless gadgets through the living area. When it's time to get some work done, a handy grommet is built into the office desk providing power and wired Internet.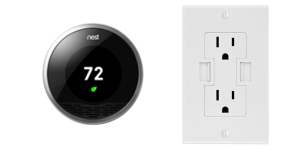 A few thoughtful touches round out the home. A Nest Learning Thermostat provides simple temperature home automation including smartphone control while away. Combination USB and power outlets were installed in the kitchen and bedroom for i-device charging convenience
This home tech update provides streamlined TV, music and Internet experiences the savvy couple wanted without breaking the bank. As they just welcomed twin girls into the world, it will also provide a solid base to grow as their digital demands expand.