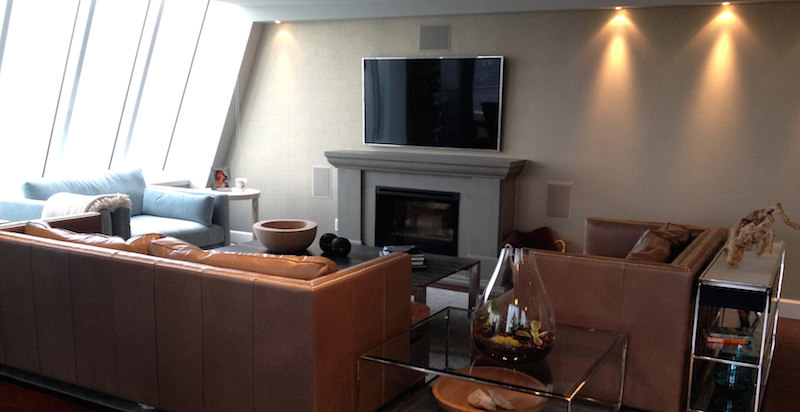 This busy couple were looking to update the home technology in their new high-rise home to work for their tastes and lifestyle. When they took over the space, it had a weak and dated music system in the living room, kitchen and master bedroom & bath. The old system didn't provide any flexibility for their preference for satellite and iTunes music, and the only space to watch TV and movies was shoehorned into the den.
They previously had expensive and complex systems in other homes, but those didn't live up to promises and were wrought with reoccurring issues. We decided to step back to focus the technology side of their home renovation on what truly mattered to them: simplicity with music throughout, and immersive but not overbearing TV & movie experiences. For this update, we worked with Sandra McIntyre of McIntyre Cresswell Design to meet this power couple's aesthetic and home tech needs.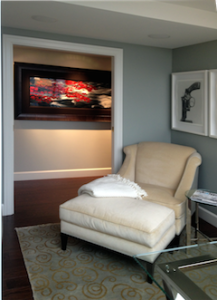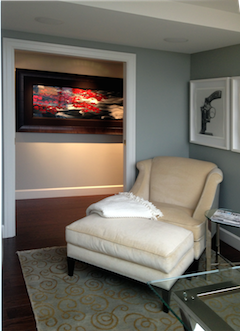 The first task was to allow easy access for their satellite and iDevice music throughout the home.   For this, we employed Sonos Hi-Fi audio components and custom installed in-wall and in-celiling speakers for all the living spaces: living room & kitchen, den, guest bedroom & bath, and master bedroom & bath. The Sonos system not only offered full access to satellite and iPod music, but also Internet radio & streaming services and even their computers.
Next we turned our attention to design their unassuming but entertaining video spaces. In the living room, master bedroom and guest room, we layered Apple TV, cable boxes and high quality AV components with Sonos to allow flexibility and fun. Now the full range of options from broadcast TV to iDevice AirPlay to Netflix to satellite radio is at their finger tips.
Every room had its unique goals and needs, and as with most Vancouver homes, space is a premium. We countered this by designing the solution to tuck away AV amps and gear in a small laundry room cabinet. This not only saved valuable floor space, but also helped maintain living space aesthetics. We also retrofitted a Nexus21 TV lift in the master bedroom that conceals the TV and front speakers to work in conjunction with the master's in-wall speakers for flexibility for music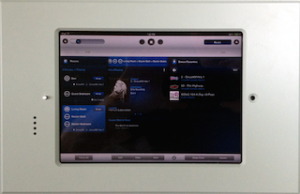 and surround sound for movies. The home solution can be controlled using universal remotes and iDevices, including the convenient wall-mounted iPad Mini in the master bedroom. Care was also taken to ensure the wired and Wi-Fi network was solid not only for today's work and play, but also for whatever tomorrow brings.
Home solutions should be easy to use and match lifestyles.  In the end this great couple got the perfect system they deserved – "Nice and simple!"