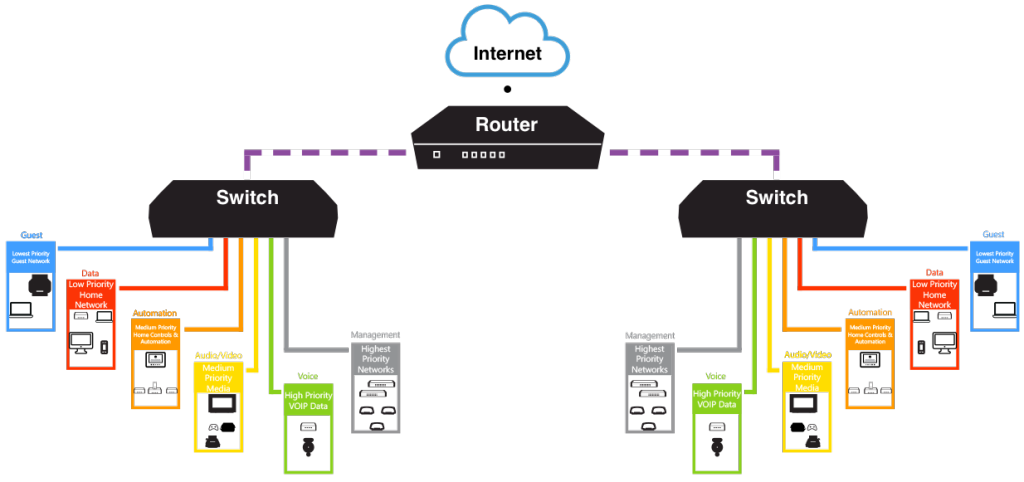 We've talked a lot about proper networking equipment for home tech lately, and its important to understand the equipment that goes into a network. Most people will know a 'router' as a Wi-Fi router as this is what most people have – either from a big box store or a 'gateway' (Wi-Fi router & modem) from their Internet Provider. A router is arguably the most significant piece of technology in your home, as all home tech activities from surfing the web to streaming media to home automation need a router to work. While all routers route home and Internet data (see below), amongst the long list of features, there are other ones like VLANs and remote management to look out for.
Routing & firewall: Although routing is what a router does, its worth reviewing what that actually is. A router is a device that connects data between two computer networks – in this case, your home's network and the Internet. You need a router to do this because originally there wasn't enough computer addresses available in the world to allow your home computers and devices to have their own unique addresses. Instead your home network uses a subset of addresses that can be re-used in all homes and businesses – their routers also translate the address between their networks and the Internet. Computer IP addresses are similar to home addresses – just a way for computers to know where data needs to go. (The world is now starting to use IPv6 that has lots of addresses, but that's another story.) A Router can also implement a "firewall" that offers a level of security to help shelter your home's devices from the big, bad Internet. Security features can include Stateful Packet Inspection (SPI), Denial of Service (DoS) prevention, WAN Request Blocking (blocks ping requests), and content filtering (e.g. block adult content).
Performance: We have nothing against consumer grade Wi-Fi routers for the right home application – its just that they're often the wrong tool for the job. People demand so much from their network and often they're not aware that they're asking a lot from basic equipment that was never designed for heavy usage. Often basic equipment fails families even when they think they "aren't really doing much techy stuff" at home. Proper equipment helps ensure that all of your home tech can do what you need it to do from Instagram to HD Netflix streaming. More and more people can benefit from commercial grade networking equipment that is built to handle the load that they need. A good router can also prioritize certain data and/or balance data needs within your allotted access to the Internet. While great Wi-Fi capability is extremely important, it doesn't necessarily need to be built into a router. Often a router is stuffed away somewhere that doesn't make sense for Wi-Fi coverage. In those cases, we look at putting Wi-Fi Access Points in central locations to provide the needed Wi-Fi coverage.
VLANs: A LAN, or Local Area Network, is the local computer network in your home. In a home network, a significant amount of data is broadcasted to all devices regardless if they want it or not. A VLAN, or Virtual Local Area Network, allows the network data to be tagged with an ID that separates it from other data. You can use VLANs to separate data even its on the same physical network – those broadcasts can be separated to only the devices that need them. For example, you can tag all of your entertainment devices for the same VLAN so they think they're on their own network and not compete as much with other devices such as surveillance cameras. You can expand this with VLAN compatible IP switches to make a powerful and flexible network.
Dual WAN: For those who want to ensure their Internet is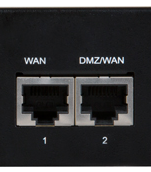 always on, you can use the dual WAN (Wide Area Network, i.e. the Internet in this case) to connect the network to two different Internet Service Providers and/or configure your WAN connections to load-balance and link failover.
Remote Management: Since we help people with home tech, remote management is a big benefit for both our clients and us. In the event something goes awry with a router, we can remotely check on the router, modify configurations, and restart it without having to set up an on-site appointment, etc. Very handy!
A router is the centre piece of the home network, so its important to use one that fits your particular needs. Regardless if you're building or renovating, or if you're looking for a stable network in an existing home, a bit of focus on the networking foundation of your home will pay dividends.