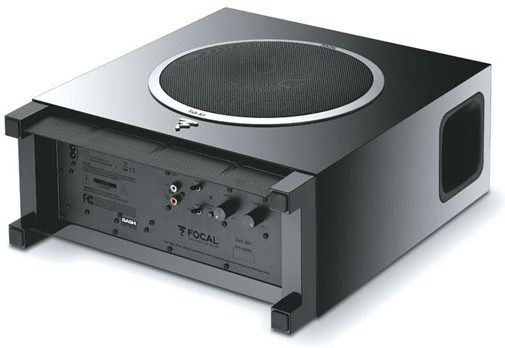 People are listening to more music, often using streaming music. Many have music (and surround) speakers discreetly installed in their living spaces. Frequently this involves installing ceiling speakers. While they can sound great and are hidden in plain sight in the ceiling, there's something missing,.. true low-end bass. This includes the low-end dance beat or the rumble from a movie explosion. These low-end sounds require subwoofers. But, there are ways to hide subwoofers too.
Speakers need to be physically large to create proper bass – blame physics. Even with the technical sorcery that manufactures build into their products to make small speakers produce surprising bass, they just can't hit the true low notes. Its not just for dance music aficionados or action movie fans, good bass helps better fill sound in the room and is more pleasing to listen to (often without specifically noticing 'bass'). We always encourage people to consider a discreet subwoofer (or completely hidden) whenever possible.
Standard subwoofers
A standard subwoofer needs to be large to properly produce proper bass – especially if you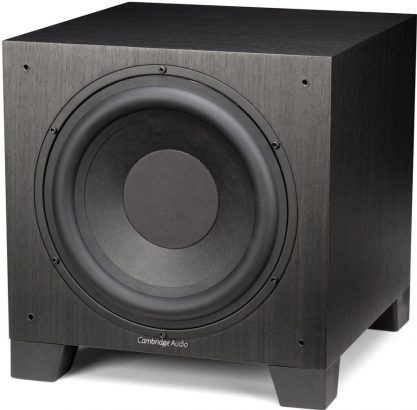 want explosion feeling bass. A true audiophile or cinephile will require a 'proper', read very large, subwoofer. In these cases, aesthetics often lose to sound. It doesn't always have to be the case though. If you're building or renovating, often some planning can greatly minimize impact to your living space. For example, its sometimes possible to cloak subwoofers with end tables or cabinetry. Often this doesn't work for a room though, so we have to look to the next two categories.
In-wall or in-ceiling subwoofers
In-wall and in-ceiling subwoofers only need the speaker itself exposed. All the electronics can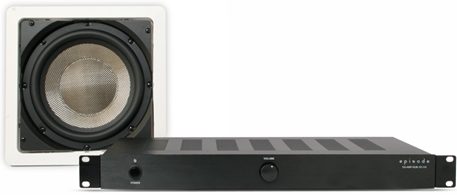 be hidden in some other part of the home. Some in-wall subwoofers use the space in the wall as part of the speaker to create great sound. Others like in-ceiling subs have the speaker cabinets hidden in the ceiling. Our ears can't perceive where bass is coming from, so we often 'hide' speakers low to the ground behind furniture. Even if exposed, they're usually barely noticed – like a vent cover. While you can get audiophile or cinephile grade in-wall subwoofers, even a reasonably priced setup can really open up the musicality and sound of a room.
Alternative subwoofers
Sometimes you're in a bind – perhaps you want to more bass, but you can't plan for a standard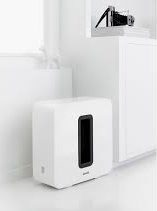 or in-wall/in-ceiling sub. Here you can look at clever subwoofers that are either small or non-standard shaped. While this category of subs can't play as low as the others, they definitely improve the sound without a large visible presense. For example a small sub can easy be placed under an end table. You can also consider one like the Focal Sub Air that is just over 6" deep. If you're a Sonos fan, their Sonos Sub is also just over 6" deep. These and others are wireless if you can't run cables. Some are available in black or white to help blend into your decor as well. These can be  placed under or behind furniture as still sound great.
The addition of a good subwoofer will help improve the sound of home music systems. Depending on your situation and budget, from building to simply adding a wireless music streaming system, there are many subwoofer options available. With some planning, you shouldn't have to compromise your home's sound system.