Renters often feel left out when its comes to home tech. Much of it is very custom and is often permanently installed. It doesn't matter if you live in an apartment or a house, there are many things that can be done that are both non-permanent, and more importantly, easily repurposed in your next place. Here are some home tech ideas for your rental space.
Wireless Music (easy)
Wireless music systems are everywhere, so if you don't already have one, its likely time that you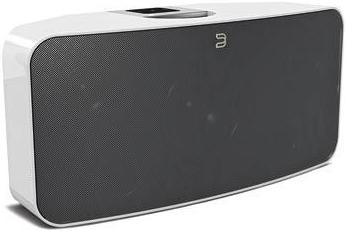 jump on board. There are lots of great systems from Sonos to Heos to Bluesound. Just check your needs; i.e. wireless speakers, sound bar and/or components. Also, how do you want to stream music? By Bluetooth, Airplay 2, propriety (e.g. Sonos) – or a combination of these? For example, Sonos supports its own streaming system (of course), and it also recently added support for AirPlay 2.
Voice Control (easy)
If you want to layer on voice control to your home tech, there are basically three families – Alexa, Google and Siri. Be aware which your device supports – e.g. Sonos currently supports Alex and Siri on some of their speakers while Sony supports Google on TVs, etc.
Surround Sound
 (easy)
Most of us already have some pretty killer, large smart TVs. The next step is to update the sound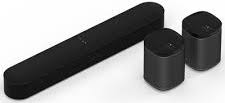 systems in your viewing room. The good news is that there are more and more companies providing great sound systems to take your system to the next level. These usually consist of a sound bar and wireless surround speakers and subwoofer. If you're already hooked on Sonos, then you can start with something like their Beam surround set, or go bigger with the Playbar set or Playbase set. Other manufactures like Sony even have startlingly good Dolby Atmos systems that will rock your world (and possibly your neighbours).
Projectors (easy)
A projection TV system is not as outrageous as it sounds. The easiest option is to use an ultra short throw projector (like this basic one or this 4K one from Sony) that sits next to your wall. These can be pricey, so you could consider a regular projector. If you can't run an HDMI cable to the back of you room for the projector, you may be able to use a wireless HDMI converter – not ideal vs. a wire, but will often work for short distances. Of course its best to project on to a screen (fixed or motorized), but you can get reasonable results onto a regular wall if its in good shape (and colour) and you don't want a screen in your living space (especially if it doubles as a your living room).
Mesh Wi-Fi (easy)
Unless you have a small place, its likely that you can benefit from better Wi-Fi coverage. If you're renting a place that doesn't have ethernet wiring, you can get a lot of mileage from a mesh Wi-Fi system.
Smart Lighting (easy to moderate)
There are many smart lighting products that don't require re-wiring. These include Philips' Hue,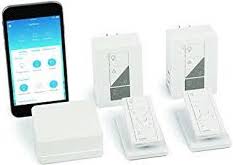 Belkin's Wemo and even some of the Lutron's Caseta products. These are either lightbulbs, lights or plug-in module that you can control with a smartphone or optional remote controls. Depending on the device, it may require a hub and/or work with various platforms such as Apple's HomeKit or Samsung's SmartThings.
If you're looking for something with a bit more control, and you've got the clearance from your landlord, then you can look at in-wall devices such as ones from Lutron and Leviton. Just be aware that its recommended to have an electrician do the install of the in-wall devices (and replace the old switches again when you want to move out).
But wait, there's more (easy to moderate)
These just start to scratch the surface of what's available. There are other devices like surveillance cameras (like from Nest), Z-Wave sensors (like from Fibaro) and vacuums (like from iRobot). From fun to security, there seems to be almost everything available.
There are more devices coming almost daily that is reasonably priced and easy to use. Choose what you want to do, choose your home tech ecosystem, and then have fun!