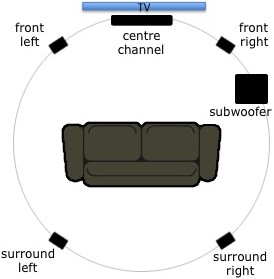 OK you've reviewed your TV speaker options and decided your media room or home theatre needs separate speakers. There are many different audio formats advertised: 5.1, 7.1, 9.2, 7.1.2, etc, etc. – its enough to make your head spin. Although more home theatre speakers usually offer a more realistic 'sound-scape', its also good to look from the perspective of what will work in your space and budget.
First lets see what those numbers mean. For 5.1, the '5′ is the number of speakers and the '.1′ is the low frequency sound effects (LFE), i.e. subwoofer. For 5 speakers, you have a centre channel speaker for sounds like dialogue, left & right front speakers, and left & right surround speakers (sound behind you). For the new Dolby Atmos formats like 7.1.2 the extra .2 on the end is for overhead speakers. Regardless of format, sound is recorded so every speaker has its own information with unique sound from each. This is how you hear directional sounds like cars roaring by in movies. Some AV receivers also may state 7.2 or 9.2, but the '.2′ is just denoting that you can connect two subwoofers (e.g. for serious setups or larger rooms). Although there are many formats, the most common ones are 5.1 (diagram above) & 7.1 (diagram below).  Note that us humans can't tell where low frequency sounds are coming from, so the subwoofer can be put in various locations.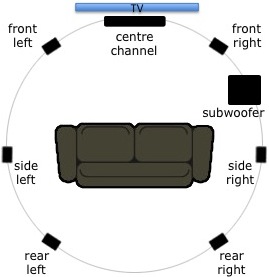 Now that you've got your head wrapped around this, what should you do for your room? Of course that depends on individual situations, but in general, most people get great milage out of a good 5.1 setup. For smaller rooms or for aesthetics, systems can be very unassuming using in-wall or in-ceiling speakers and a hidden subwoofer. If you're a really demanding videophile or are building a dedicated home theatre, then you should definitely look into a 7.1 or bigger setup. More speakers may be 'better', but a system right-sized for your home and budget is best.