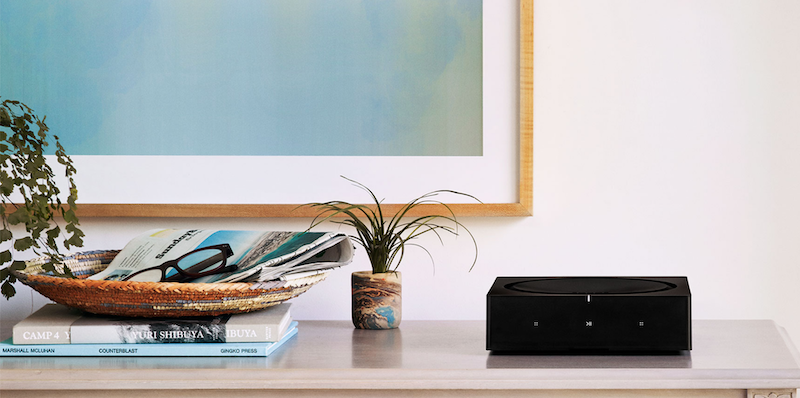 Sonos is replacing the Connect:Amp with their Sonos Amp. Unlike their standalone speakers such as the Sonos One, the Sonos Amp can be connected to stereo speakers or other speakers. For example, we often use it with in-ceiling speakers in homes. Its currently available to integrator people like us, and will be available to Canadian shoppers in February. The new Sonos Amp has most of the same connection options as the Connect:Amp (speaker connectors, left/right inputs, sub output, two Ethenet ports). It also adds an HDMI connector for TV connections. Overall it looks like a nice update – let's take a closer look at its main features. 
Power output
The feature that most people will notice is that they've bumped up the power to 125W on each side from the Connect:Amp's 55W. While most people don't need the volume from the extra power, it should help improve the sound even at lower levels when parts of music need more oomph. This will be particularly handy if you're using it with four speakers, such as four in-ceiling speakers.
TV friendly
We think the Amp is most likely to find its spot hidden away in a technology closet in a home,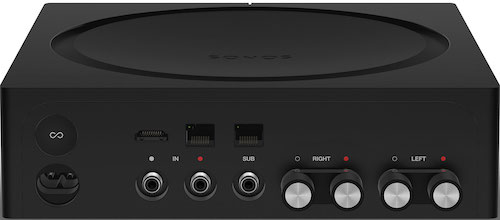 but it can happily be placed in a living room. If you want to use it with your TV, it has a HDMI connector for TVs with an HDMI ARC output. You can start with just your stereo speakers (it emulates a centre channel). You can then add other Sonos speakers for surround sound. It also has an IR sensor so you can use your remote control for the volume.
Future features
We suspect some of the Amp's best feature's are yet to come. Since it's a new platform, there are features that can be added in the future. For example, it's compatible with Apple's AirPlay 2 unlike the Connect:Amp. We look forward to the possibility of native support for other smart devices such as smart doorbells. 
While many see the Sonos Amp as an 'integrator' focused device, it should slot in with the same kind of people who are using a Connect:Amp with their stereo speakers. We're currently testing ours with our turntable setup, and so far, so great! We look forward to using it in our clients homes to harness the increased output power and future technology options.