Automated shades are an increasingly popular choice for home owners. Whether it's for convenience, privacy, energy savings, or just as an upgrade, automated shades add a nice touch to your home. While a lot of the decisions are around aesthetics like any window covering, there are more details to think about with automated shades. Let's review what to consider for automated shades.
Type
Start with what type of automated shade you are looking for, e.g. roller shades, honeycomb, etc. Sometimes aesthetics will dominate, so you'll choose your window coverings weighing the right look over other features like maximizing energy savings or privacy. For example, since honeycomb style shades have a built in air pocket, they have better insulating properties over roller shades.
Fabrics
Before you choose your fabric, you should consider how much light and privacy you want from your automated shades. Fabrics are grouped in three main categories: sheer, translucent and opaque. Sheer allow you to see your outside view and lets lots of light in; the flip side is that they don't offer much privacy. Translucent shades soften exterior light and provide more privacy, but won't allow you much of an outside view. Opaque fabrics block light and provide maximum privacy – for example, nice for bedrooms and media rooms. Once you have an idea of the fabric group, then you can look at colour, styles and textures.
All shades will help keep a house cooler in the summer (ie shades down during full sun), and warmer in the winter (shades up during day, and down at night). If you are looking for extra insulation from your window coverings, you should pay closer attention to the "R value" of a shade. R value is a measurement of thermal resistance – basically, how well something does at insulating.
Power
Automated shades can be powered by battery or wires, or you can go completely manual. Battery powered is the easiest way to power automated shades, especially if you're not able to realistically run power wires to your windows. Note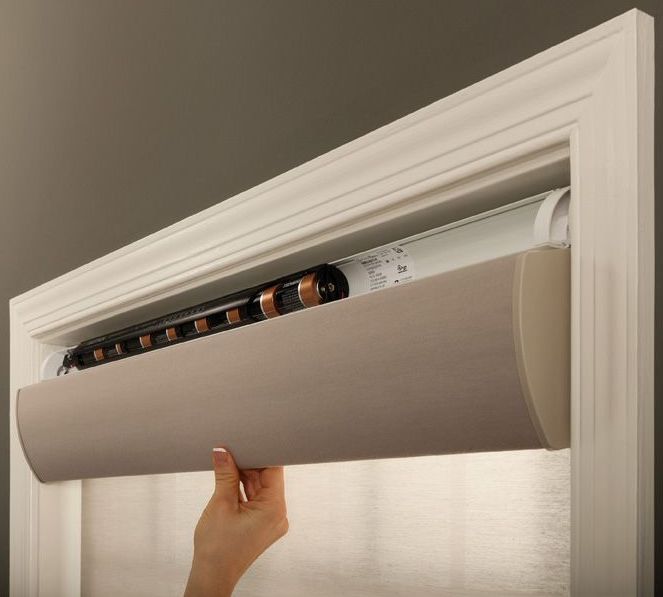 though that while batteries should last years; e.g. Lutron expects 3-5 years under basic daily use, you will have to replace batteries eventually.
If you're building or renovating your home, we strongly recommend running power wires to each shade. This takes batteries out of the equation – especially for hard to reach areas. Wires also give you more flexibility on fascia choice (see below). Most shades use low voltage wiring (and power supplies can be out of the way, such as in a basement), but some require regular house voltage. Make sure you know which you have chosen, as if you're using regular house wiring, you'll have to make room for an outlet.
Manual shades come in handy for areas where you don't want or need automated shades, or for windows that are too narrow for automation. Either way, if your chosen manufacturer makes both, you can choose manual shades and still have them match nicely with your automated shades.
Wired or wireless control
For control, some shades are controlled wirelessly and some require control wires. If your chosen system requires control wires, make sure you know what your wiring needs are before you close up your home's walls for good.
Fascia
Fascia options depend on the manufacturers. They cover the roller and any shade mechanisms. Most have options for no fascia, fabric fascia or box (architectural) fascia. You can choose no fascia if you plan on building a recess for the shade or like the look of a shade roll.
If you've chosen to wire your shades, the headrail will likely be much smaller than one with batteries – this will make it easy to hide or simply ignore the shades without needing a fascia.
Mounting
You can decide to mount your shades inside your window frame or outside it (i.e. above your window frame). If you choose inside your window frame, careful measurements must be made to make sure it will actually fit inside.
If you want it mounted outside, you have to consider mounting on your window trim, or check that the shades come with spacers so they can be mounted to clear your window trim. While the measurements for outside of your window frame are a bit easier, you still have to make sure they are measured to fully cover the window.
When you choose roller shades, you can also decide if you want regular or reverse roll. Reverse roll can provide more clearance for things like window and door hardware.
Control
The last big decision you have to make is how to control your shades. You can decide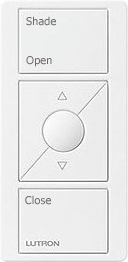 from a simple remote control, remote control and smart phone app, or remote control and integration with smart home control. There is a growing collection of shade products that are compatible with consumer DIY yourself systems, so you can dig into those if you like. If your system is large, it makes sense to get some professional help.
Note that not all shades behave the same. Some only open and close with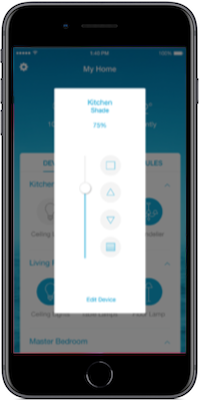 one or a couple set points (e.g. 50% open). Maybe this is all you need, but if you are the type to have your shades 23% open yesterday, 100% today, and 89% open tomorrow, you'll want to make sure your chosen shade supports infinite open/close settings. If you want to group a rooms shade to open and close in sync, make sure the system supports that.
There are lots of shading vendors to choose from, so choose one that works for you and your home. Check to see what other feature are available when you narrow down your automated shade choice. For instance, is it alright if you manually pull on a shade and have it still work with automation? How loud are the motors when the shades are opening and closing? Do you have a preference on the hembar style? What's the warranty? With a bit of effort up front, you can have automated shades that give you great value in your home for years to come.