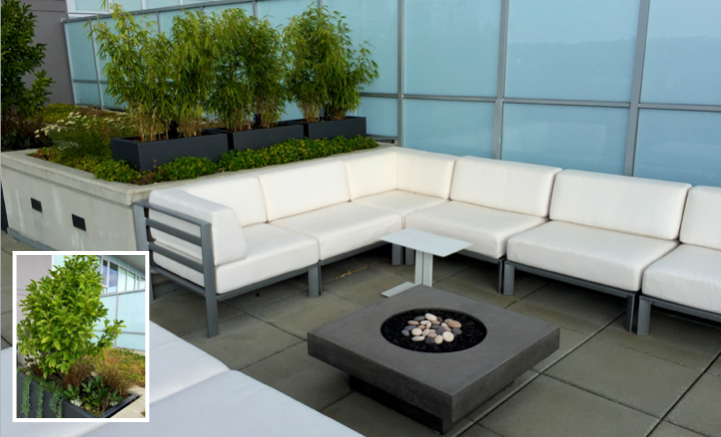 Adding music to your outdoor spaces can make those places more enjoyable. The trick is choosing the right outdoor music speakers. You want to provide the right sound level without blasting yourself (and your neighbours) with loud music, or making it look like an outdoor concert venue. Your wireless speaker may be okay in a single spot, but you'll want a wired speaker system for better outdoor music coverage.
Your first step is to decide if you want to use a conventional system (like a home stereo) or 70V outdoor music system. If you're only using a couple outdoor speakers close to your home, a conventional system may work. Otherwise 70V systems are often best for larger spaces as they are easier for multiple speakers and longer wire runs (you can brush up on speaker system differences here).
Regardless on outdoor music speaker system you're using, there are many styles of speakers to choose from
Garden speakers: These speakers are intended to be placed along your landscape features. They come in brown and green colour tones to blend in with plants. Garden speakers are usually 'mushroom' or dome shaped. You can leave outdoor speakers exposed to the weather when installed properly.
Decorative garden speakers: Outdoor speakers are available in shapes like plant pots, statues and rocks. They can be more subtle when placed in visible areas – or it you prefer a whimsical conversation piece – you can choose something like a frog statue speaker.
Conventional cabinet speakers: If you want to mount your speakers under eaves or on poles, then cabinet speakers can work for you. These usually come in black or white, but some are available in various colours. The 'box' shape allows manufactures better control of sound quality, and are available over wide price and quality ranges.
In-ceiling speakers: Some in-ceiling speakers are weather tolerant for mounting under an eave. These speakers are available in a range of quality levels as well. In-ceiling speakers are limited to outdoor spaces that have buildings with eaves though. The speaker grills usually come in a white colour but are easy to paint to match with the colour of your eaves.
Subwoofers: If you're looking for more bass, you can also choose an outdoor subwoofer. Some come in dome or box shapes to place in a garden or on a patio. To minimize visual impact, use a sub designed to be partially buried. Keep in mind though that outdoor subwoofers usually require their own dedicated amplifier.
When you plan your outdoor music solution, keep in mind that more speakers are usually better. Once you decide on speakers, your can figure out your amplification requirements and music source. You can mix and match speaker styles, but 70V systems likely make this easier. With more speakers, you can have individual speaker volumes lower while still hearing the music levels evenly throughout your space. This allows you to avoid loud spots or leakage to other properties. Your family and friends will be able to enjoy the tunes, and your neighbours may not even notice it.