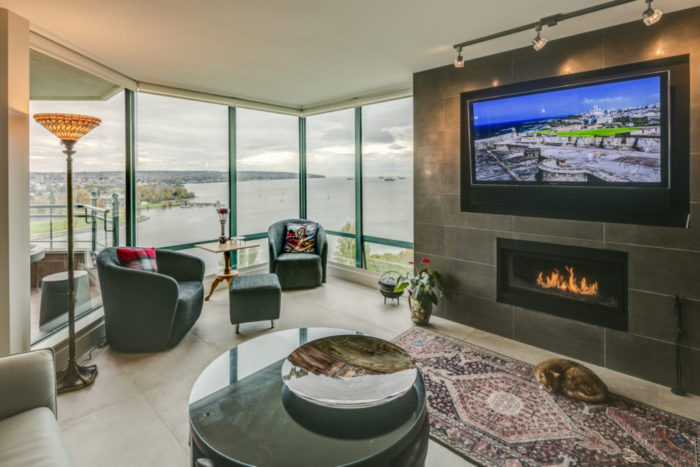 The perfect time to include some affordable home tech touches is when you're building or renovating your home. Home technology adds to your comfort and lifestyle, and with some thought it doesn't have to greatly impact the aesthetics or floor space in your home. Here are a few tips for great home tech.
Hide your media room in your living space
A family room or living room is often a home's entertainment focal point. It can be a great place to connect with your family or provide a safe hangout for your kids and their friends. With some forethought, your space can service all these needs without tech clutter and still provide an engaging media room. The incremental costs can be low, but you get a big payback when your tech isn't an eyesore.
Think about your seating and TV location. You can wall mount and/or hide your TV screen with creative cabinetry, e.g. behind cabinet doors or a sliding panel. If you're planning to use a sound bar with your TV, make sure you plan its placement too. There are also affordable options for projection systems with retractable screens.
In-wall and in-ceiling speakers are available right up to audiophile grade, so they are a great way to get impressive sound without impacting the aesthetics of the room. Think about speakers in the other rooms where you'd like to listen to music as well. Bass can be a bit tricky though, so plan out the acoustics of your room when using in-wall subwoofers.
Plan cabinetry to hide equipment like TV cable boxes, media players and AV receivers, and then you can use a control system that operate these behind cabinet doors. (As a bonus, you'll have one easy to use remote instead of a coffee table full of them!)
Build recessed wiring boxers, cabling or conduits into the walls to hide the cables to the TV and gear. Where possible, plan for wiring to allow for the transition from current HDTV signals to 4K TV, 8K TV and beyond. In addition, don't forget to ensure there is plenty of power and ventilation for all your gear.
Consider smart home products
A smart home doesn't mean a complicated or expensive home. There are great products available that provide positive impacts in our lives. Here are some of the more popular ones.
Lighting automation and control: Lighting automation may be something that might make you wonder how you lived without it. There are affordable solutions like Lutron's Caseta that are accessible for new or retrofit applications. You can dabble with a room or two and build on it as you wish. You can start with setting up a lighting 'scene' (e.g. relax, entertain and watch TV), set your lights on timers, or have them automatically come on when you're near your home. Products are also increasingly compatible with other products like Apple's HomeKit and Sonos music systems.
Smart lock: Smart locks allow your family (and selected friends!) access to your home without physical keys. There are many options that include keypads, smartphone access, smart home control integration, or combinations of these.
Smart doorbell: Smart doorbells work with your smartphone to allow you to know when someone's at your door regardless of whether you're in your room, in the backyard or at the market. They give you a video feed of the visitor and often you can talk back. This can be good for deterring opportunistic intruders or even ignoring unwelcome solicitors. Some smart lock options can interact with your smart lock to allow you to let someone in as well.
Networking
While networking may not be as sexy as other tech like media rooms, streaming music and smart home gear, its the backbone of all that good stuff. Its important to give networking careful thought and attention so it can work for you.
Wire everything you can: Other than portable devices like mobile phones and tablets, most home tech gear can and should be wired to your network. Don't make devices like TVs, Apple TVs, desktop computers, printers, etc. fight for Wi-Fi – they will work better when physically connected to a solid network. Think of the future too, as a few extra networking wires won't cost much at build time, but will come in handy when and where you need them.
Ensure good Wi-Fi where you want it (inside or outside): Think about where you want to use Wi-Fi and make sure you can put a Wi-Fi access point close enough for a good Wi-Fi signal there. For example, one router in a basement most likely will not cover a whole home. Consider a home's layout and building material, and run network wire so you can install Wi-Fi points where needed.
Use professional quality equipment and cabling: A home's network is no longer just for checking the odd email or cat video – its now major infrastructure asset for your entertainment, work, automation and more. When you consider how much you will use and rely on it, the investment is very reasonable.
Well architected home tech can add enjoyment and value to your home while still allowing it to feel like a home. Some up front planning can balance your home tech needs with your style and aesthetics.