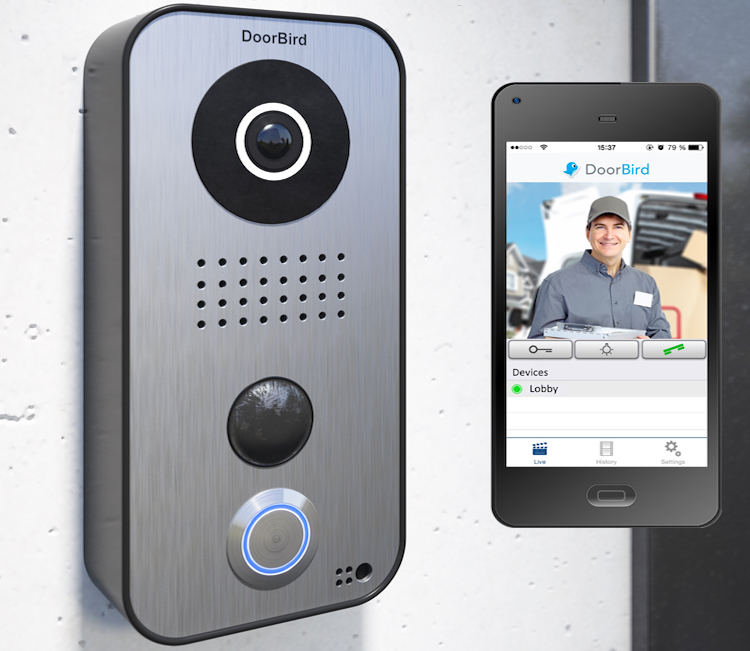 A smart doorbell can smarten up your home with convenience and security.
With a smart video doorbell you can be notified of a visitor via a smartphone app. You can then see and talk with them using the camera and two-way audio. There's lots of different features available, so here are some features to consider if you're shopping for a smart doorbell.
Basics – There is no point in looking much deeper into features if the basics of a particular doorbell won't work for you.
Power: If you have existing doorbell wiring (two wires) at the right spot, then you'll probably want to look at ones like that use them. Battery powered options are convenient up front, but they'll need charging or replacing batteries when they die out. If you choose one that is powered by a wall power supply, then you'll need an outlet nearby and have to deal with a power cord. If you're building or renovating, also consider one that allows to be powered by POE (Power Over Ethernet).
Aesthetics and fit: Assuming you like the looks of the doorbell for your home, you'll have to make sure it will work in the space. Some have different face plates, while others like Ring Video Doorbell, August and DoorBird have different coloured models. Your smart doorbell will need to physically fit near your door. Once you have sizing confirmed, you can determine how it will be installed. Many doorbells can be retrofitted by surface mounting on a wall, while others can be recessed into the wall. Ones like DoorBird have both options available.
Communications: Many of smart doorbells use Wi-Fi, so if you're going that route, you'll have to make sure your Wi-Fi is strong at your door. If building or renovating, then consider running Ethernet cable to optionally use doorbells that support wired connections. This will not only avoid possible issues with Wi-Fi, and you can also use POE for power (as mentioned above). Some are also some compatible with Bluetooth, Z-Wave, ZigBee and Cellular, so if your other devices are compatible with these, they may work for you.
Specs – Once the basics are covered, dig into the deeper features of the devices to compare various models specs
Camera: You'll want to have adequate video quality for your coverage area to clearly see who's at your door. Smart doorbell cameras range from 960H to 1080P video. Higher resolution helps you see more detail. If you have a security event, the detail may also help you better identify the person. You will also want to match the camera's field of view to cover your front entrance. Also consider other areas like your sidewalk and gate. Unless you have a tight space to view, look at ones with a 180 degrees viewing lens. For low-light or night-vision video, check for low light and/or Infrared LEDs.
Motion sensor: Some smart doorbells have automatic motion sensors that can record video or notify you even before someone rings your doorbell. This can be handy or vital for security.
Intercom and audio quality: For smart doorbells with intercom support, ensure that it has a good microphone and speaker, so that both you and and you visitor can be heard properly.
Deeper features – If you're looking for a more capable smart doorbell, you'll can look at other supported features
Usability: If you want to go beyond using just your smart phone, you can check other options are available. Some have support for Apple's HomeKit or can talk to other smart devices. For example August's doorbell will work in tandem with their lock.
Integration: If you're looking for integration with a custom home control system like RTI, then you'll need to look at doorbells like from DoorBird. Some doorbells also have relays to control parts like gate openers or door strikes. Some also supper features like ONVIF to ease the integration with a surveillance or security system.
If you're a do-it-yourselfer, you'll probably want to keep it simple.  Look at a model that you can use your old doorbell's wiring, Wi-Fi and the native smartphone app. For deeper smart home magic, you may want to reach out to a technology consultant for assistance. Either way, you'll be ready when someone's at your door.